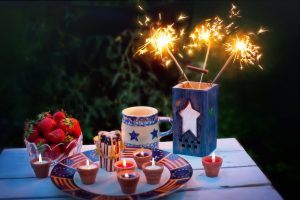 What is Labor Day?
You probably recognize it because it's a day off work… but what's the origin of Labor Day, anyway? It began in the late 19th century as the trade union and labor movements started to grow, and was a day of the year chosen by tradesmen to celebrate labor! One early history story indicates that the idea of Labor Day was the creation of Peter McGuire, a vice president of the American Federation of Labor, who made the proposal in the Spring of 1882.  He determined that a day be set aside for a "general holiday for the laboring classes"…and that the event should kick off with a street parade as a public demonstration of the strength of organized labor, followed by a march, and then a picnic. According to the story, he selected the first Monday of September since the weather was typically ideal at this time of year in regard to outdoor celebrations.
Today, we might know it as the "unofficial end of summer"—the gathering of school kids and the return to normal disciplines and routines.  In some states, such as Virginia, the amusement park industry successfully lobbied for legislation requiring schools to actually begin AFTER Labor Day to allow families to enjoy one more weekend to visit local state parks…the statute has been nicknamed the "Kings Dominion law", after one such local park.
What will you do this Labor Day? You may want to take advantage of a shopping spree as many retailers utilize the Labor Day Weekend to advertise huge savings at local stores, as well as on school supplies.  In fact, some retailers claim it's the largest sale date of the year, after Black Friday of course. Whatever you do, enjoy the outdoors—as for some of us this holiday is a quiet reminder of a winter soon to come!
Share the post "What is Labor Day?"